Justin Haskins is a widely published writer, political commentator, New York Times bestselling author, and the president of The Henry Dearborn Liberty Network, which Haskins founded in 2018.
Haskins is also the director of the Socialism Research Center at The Heartland Institute, a national free-market think tank. (His work here does not necessarily reflect the views of The Heartland Institute.)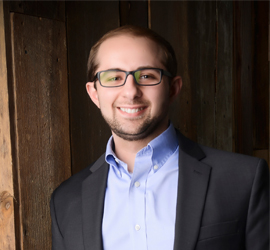 Haskins is the author of the Amazon best-selling book Socialism Is Evil: The Moral Case Against Marx's Radical Dream (2018), a contributor to Glenn Beck's New York Times bestseller Arguing with Socialists (2020), and the co-author (with Beck) of The Great Reset: Joe Biden and the Rise of Twenty-First Century Fascism (2022), another New York Times bestseller and the number-one bestselling book in America during its release, according to the Wall Street Journal and USA Today. In 2023, Haskins and Beck (alongside Henry Dearborn's Donald Kendal) co-authored another New York Times bestseller, Dark Future: Uncovering the Great Reset's Terrifying Next Phase.
Haskins has been published hundreds of times in major digital and print publications, including The Wall Street Journal, New York Post, Forbes, FoxNews.com, Newsweek, and National Review, among many others. His writing has also been featured or discussed by The Rush Limbaugh Show, Glenn Beck Radio Program, the Fox News Channel, The New York Times, Drudge Report, The Heritage Foundation, and Newsmax, which named Haskins one of "Top 30 Republicans Under 30" in 2017. In 2016, Haskins was named to MediaDC's "30 Under 30" list of young and influential leaders on the right.
Haskins writes a column for FoxNews.com and has appeared on television and radio more than 300 times on shows like Tucker Carlson Tonight, Fox & Friends, and the Glenn Beck Program.
Haskins has also co-authored numerous national surveys conducted by Rasmussen Reports, one of America's leading pollsters, many of which received significant media attention.
Justin graduated from the University of Richmond (Richmond, VA) in 2010 with a bachelor's degree. In 2011, Haskins earned a master's degree in government with specializations in international relations and American government from Regent University (Virginia Beach, VA). In 2015, Haskins earned a second master's degree from Regent University, this time in journalism.